I started doing something with my children that I love and so do they. My husband works one night a week and so those nights I try to have fun with them...we don't just need to have a fun dad right???
I pondered what exactly I could do and after much debate cooking class won out.
My children LOVE cooking class!!! We have them go to one once a quarter and Chef Patrick is fabulous but they mostly focus on desserts at this age in those cooking classes
so I thought we could focus on the main course.
Our first class was learning how to make lasagna rolls...
Don't the look DELISH!!!
Here is how our cooking class went:
We always start by washing hands!!!
First we gathered all of our ingredients:
Box of lasagna noodles
salt
2 jars pasta sauce
faker Parmesan
pre-cooked ground chuck(the amount is up to you)
4 cups mozzarella
2 eggs
garlic powder
onion powder
Italian seasoning
parsley flakes
grated real Parmesan
Let them fill a pot of water, add salt, and place the lid on and bring the water to a boil, once boiling add lasagna noodles and let boil for 10 minutes and stir occasionally.
Teach your child how to turn on your oven to 350(the magical degree, is what I refer to it)
Next is getting the sauce on. I had cooked the hamburger a few days before hand and so we just dumped it into a skillet and added 2 jars of our favorite spaghetti sauce(we like things saucy you could get away with one). Turn the heat on low and let it heat up, we also added 1/4 faker Parmesan cheese.
This is really teaching them to multi task and work quickly.
Next was to make the filling. We have children that do not like ricotta cheese so we left it out and that is what is all about when cooking with and for children you adapt. Now don't get me wrong I cook things they do not like and they have to give them the old college try but if I know they really don't like something and I can substitute it I do.
In a bowl add 4 cups of shredded mozzarella, 1/2 tsp onion powder, 1/2 tsp garlic powder, 1 tbs Italian seasoning, 1/2 tbs parsley flakes, 1/2 cup grated Parmesan, and 2 eggs. Mix this up until the eggs are coating the cheese evenly. Set aside.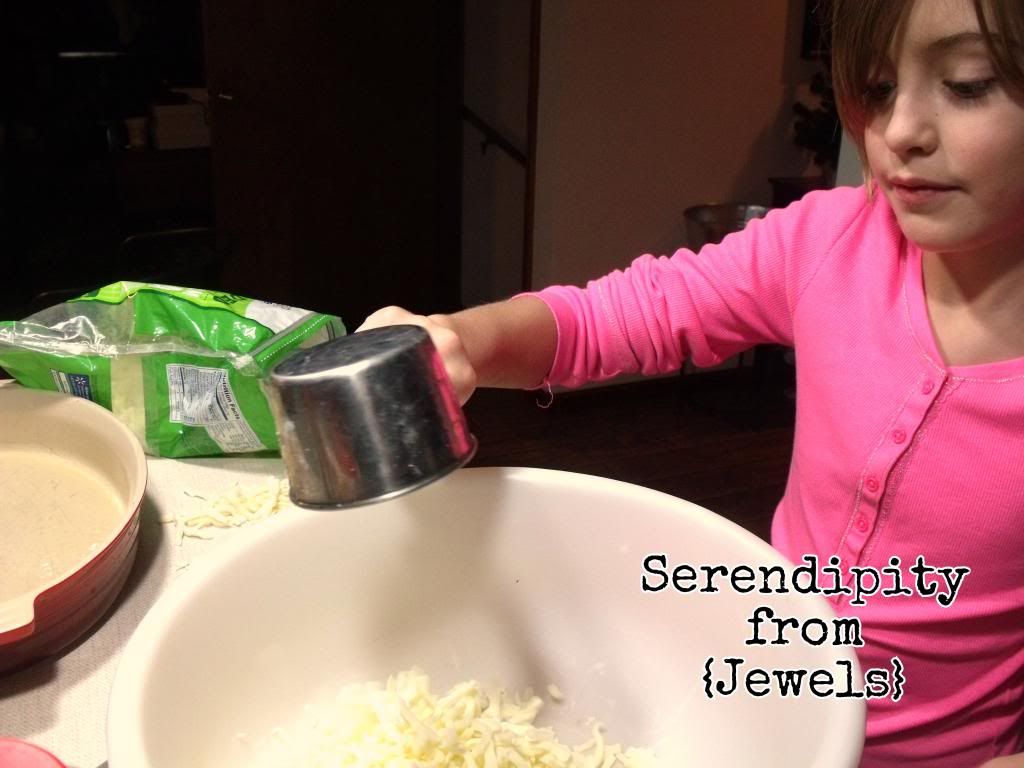 It is time to do a clean up of your work area while you are waiting for the noodles to finish and the heat can be turned off the sauce. Once the noodles are done drain them and rinse them with cold water until they are cool about 2 minutes. You don't want your babies to burn the little fingers.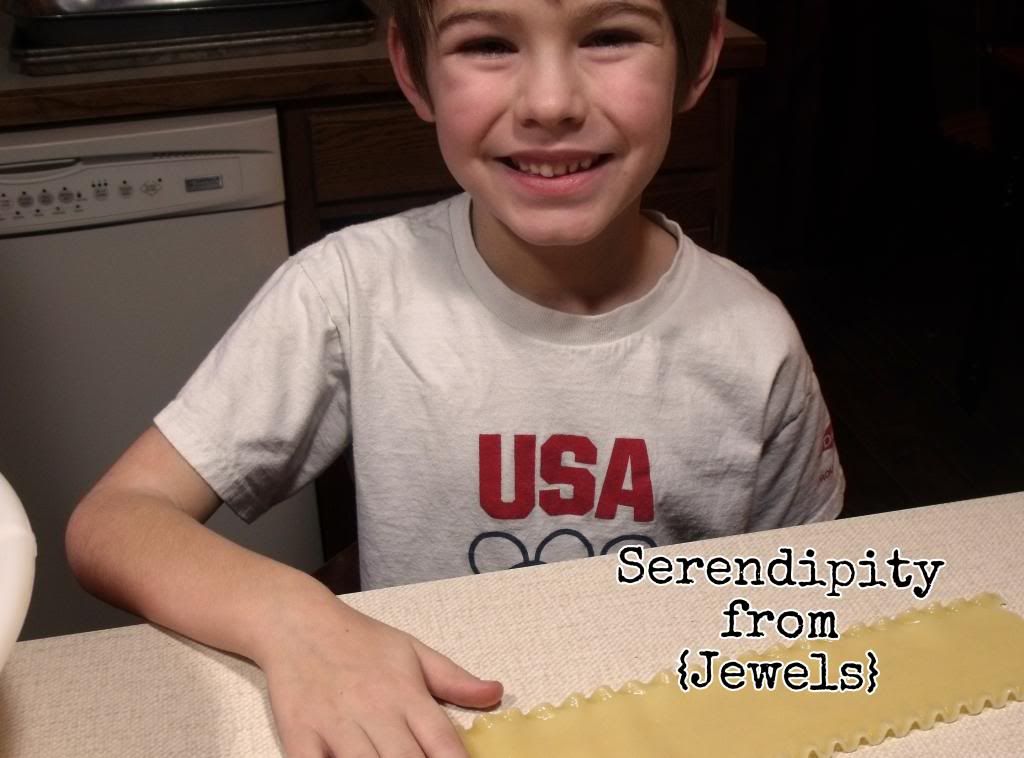 Have them lay out a noodle on your counter. He is always hamming it up when I take pictures.
Yes I said act like I am not here about a dozen times but he could not help himself!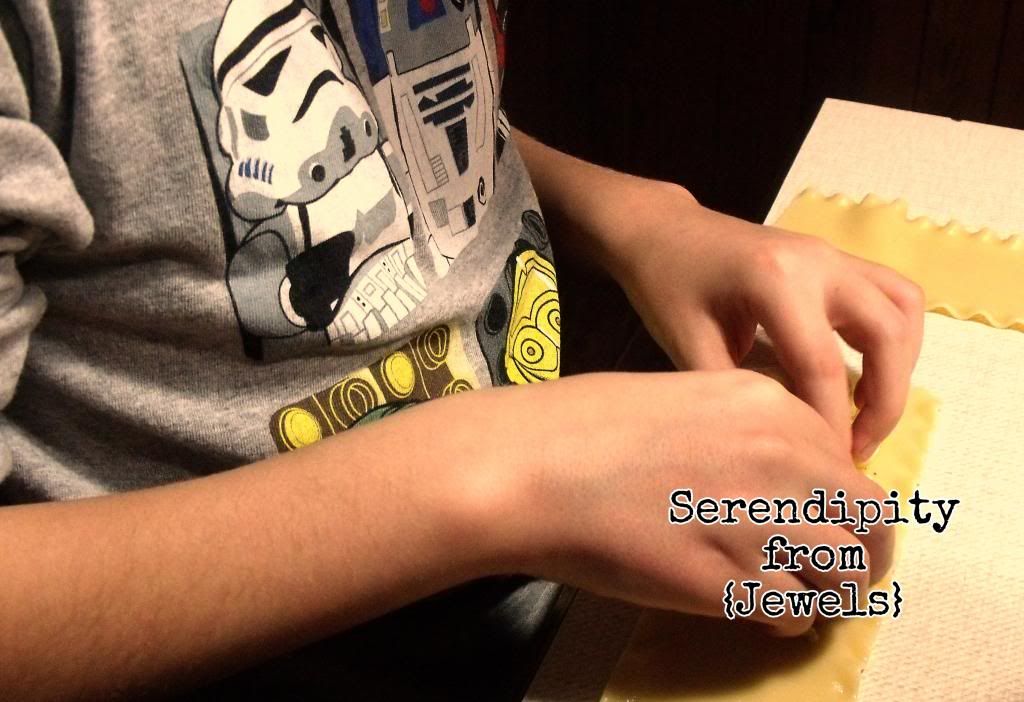 Have them spread a thin layer of the cheese mixture over the cooled noodles.
We just used out hands but you could use a spoon as well.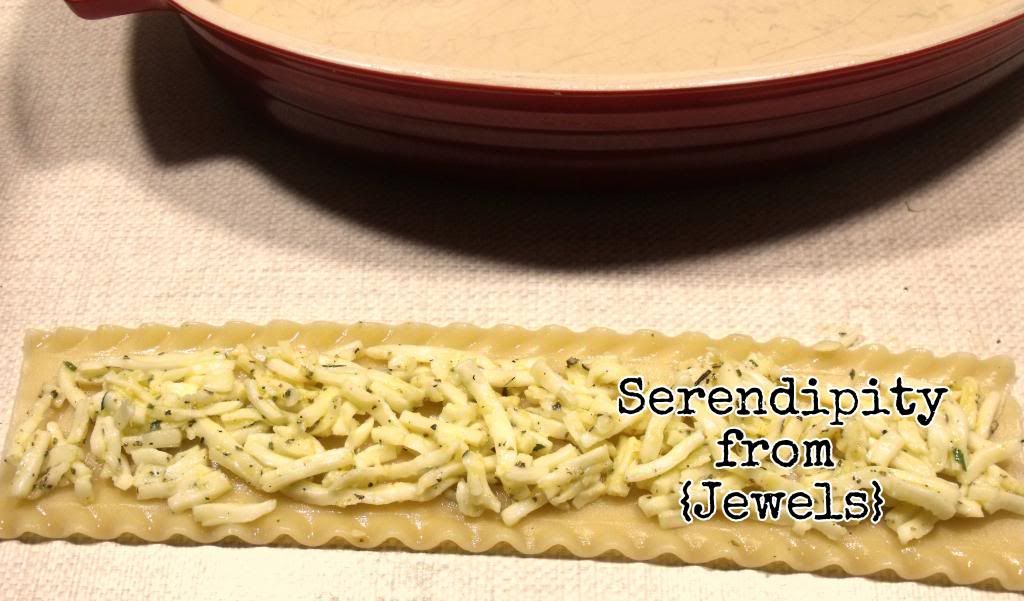 It will look like this once the mixture is all spread.
Then you roll them up and place them in a lightly greased baking pan seam side down.
( I do not have any pictures of this because I was helping during this time and my hands we covered with cheese mixture and no dad to snap away)
Once you have them all rolled up and in the pan cover the rolls
with your sauce and put it in the oven for 25 minutes.
Let sit for 5 minutes and serve with a salad of greens.
I will never make lasagna the traditional way again simply because I knew exactly what a serving was and it scooped out of the pan fabulously and it was so FUN to make!!!
Enjoy...next week I will share our cooking class on making crunchy black bean tacos and can I tell you they were scrumptious and all the kids LOVED them!!!
Be Awesome,
Julia