WE have a graduate and this is hard to believe and a few weeks ago we had his graduation open house. It first started by me asking him if he wanted one and after a couple of weeks he decided yes he would. Then it came time to decide what he wanted it to be a dinner, a dessert bar, swimming party, and the list goes on but he decided he wanted a bar b q so off I went in search of ideas. I found a couple of great ideas and as party planning goes the ideas morph over time. We were going to have hot dogs and sliders and then one day we had brats for dinner and so the request came for brats at is open house and so the make your own Gourmet Hot Dog/Brats took shape. I like to keep things simple, easy to execute, and also keep the cost to a minimum. I did this in all kinds of ways that I would like to share with you.
THE TABLES
These are the tables and I will tell you the centerpieces were not the original plan they were supposed to be sticks with pictures tied to them with ribbon but a wrong measurement by yours truly scrapped that plan and so my friends(yes use your friends help, I honestly could not have done it without them) and I came up with these in pinch and I LOVE them and he was okay with the flowers(phew).
To make the jar vases(which I had in my garage) we hot glued small cups into the bottom of the canning jars and filled the cups with water. I then took horizontal pictures of him in his senior year and added them to the jars to hide the cups tied red gingham and yellow ribbon to the tops of the jars and added the daisies(which I had bought for myself that morning and so I glad I did because they worked in a pinch). I found white table clothes on clearance and then bought about 7 yards of red gingham fabric an cut it every 44 inches to make the gingham squares in the center of the tables.
THE SIDES
I used things I had around the house to serve the food in. You might recognize the buckets from my stairs for the kids clutter well we cleaned them out and served 4 different types of chips in them. A large galvanized tub(used to fill with apples in the fall) filled with ice and red bowls(borrowed) full of watermelon did the trick. The pickles and carrots were served in 2 of my glass jars, one of which typically stores my children's crayons and the other our vacation rocks. I just dressed the jars up with chalkboard labels from the Martha Stewart line at Staples. I quickly using word printed off a sign with the types of chips and the number of pail they were in and taped it to the wall.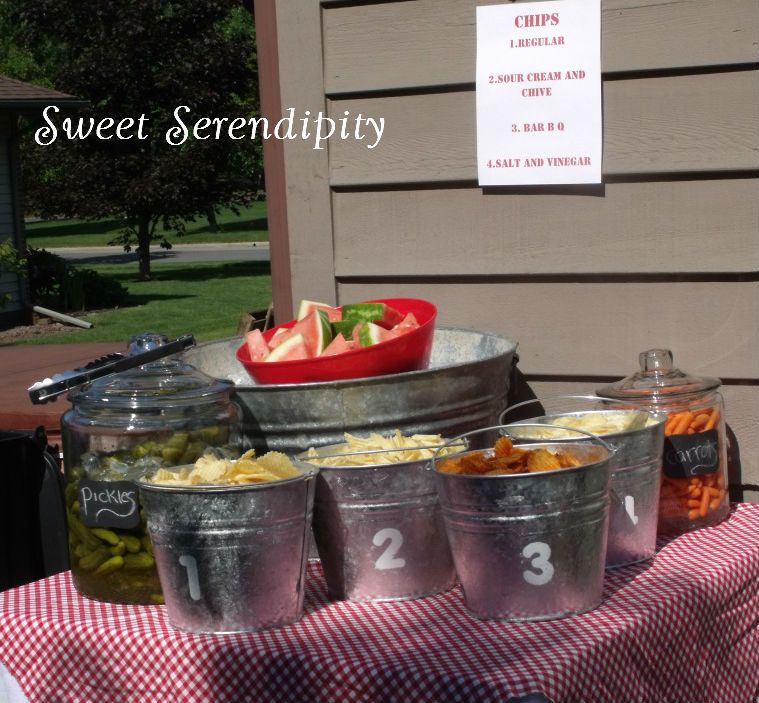 THE BRATS AND DOGS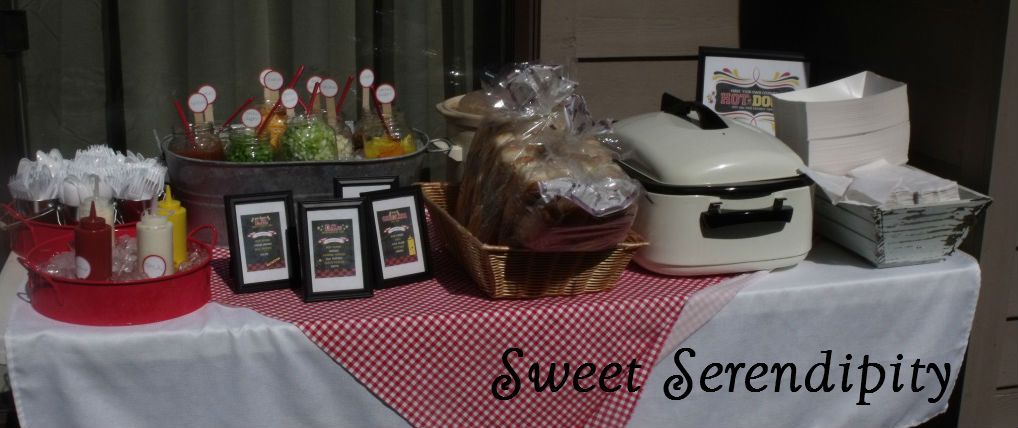 To make things simple and so we didn't serve anything under cooked we boiled the hot dogs and brats first and then put them on the grill for the grill marks and they were fabulous and no burnt dogs or brats and into the roaster they went. I found some great printables on line(who knows where now) for some gourmet hot dog recipes and I printed them off and framed them. I placed them in the front of all the different toppings for the dogs(there is a close up below). Each topping had a label using a craft stick and a red white label again got to love the new line of Martha Stewart labels and office supplies at Staples. I glued the sticks to the back of the jars(I had six of the jars and went and bought 4 more at the Dollar Tree). I used the same labels on ketchup and mustard bottles to dress them up a bit and placing the bottles in red metal trays filled with ice(again borrowed). The silverware was placed in little metal buckets found at the one spot at Target.
For drinks we had metal drink stands filled with ice and water bottles near the tables and a cooler full of ice cream cups(sorry no pictures of these) I did quickly whip up a sign using word and taped it to the cooler that said I Scream You Scream We All Scream for Ice Cream.
I also set up a small area for young children. They could blow bubbles, play in the sand table, or play with the animals in the water table. On the other side of the yard we had games for older children to play.
I need to take this opportunity to thank Julie, Denny, Melanie for all their help decorating, cleaning, refilling food items. My mom for helping me chop and chop and chop. Paul for ice and water filling. The Newtons, Gilberts, and my Uncle for chair and table take down and loading them into the truck. Mom Kepler for ice cream pick up and a last minute run for large garbage bags and cheese. And who can forget Tammy for all of our house tours(thank goodness I cleaned the inside of the house).
The Open House was fabulous and enjoyed by all. I wish I had taken more pictures of the event but I was busy visiting and hostessing and having a great time.