I feel like all we have been doing around here as of late is
plan parties, shop for parties, prepare for parties, have parties, and clean up after parties.
Then I started to think about it and that is because we have been.
Well here we are again my baby turned 7 and he wanted a pirate party and it turned out super... can I say cute, no probably not so I will say soooo piratey ARGH!!!
I took our old rectangle card table which has endured many of camping trip so many I think it is about to give up the ghost but I regress and covered it with pallet boards to look like planks and then served all the food off of that.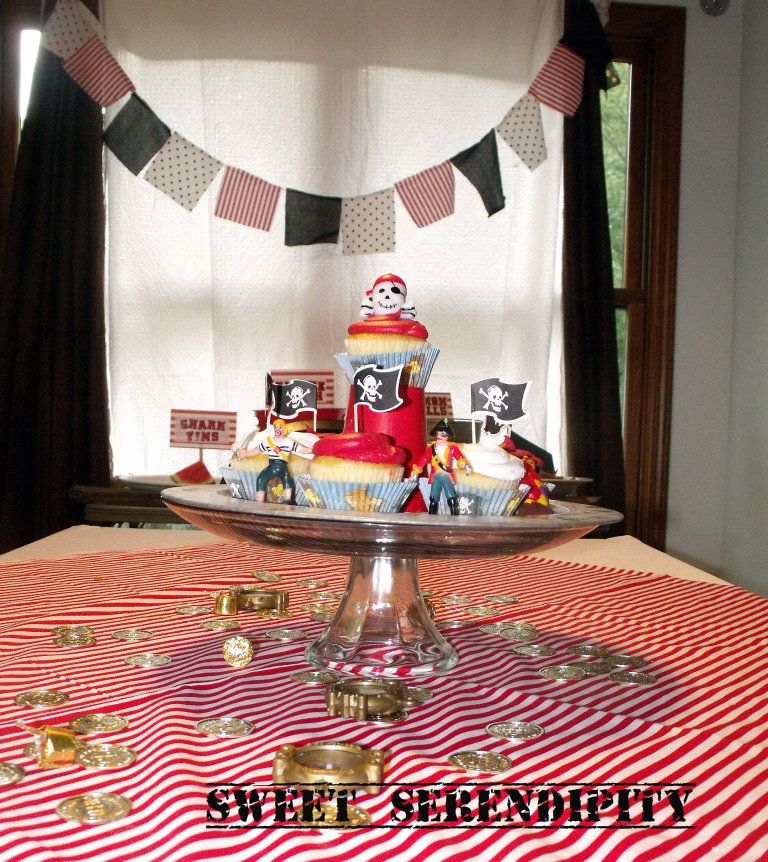 The one thing I am learning about throwing parties is do what you can do in the time allotted and get help everywhere else like our local grocery store did with these cupcakes. I put the store bought cupcakes in the pirate cupcake liners and then plated them on a charger added to a cake stand. For the finishing touches I pirated them up with candles and pirate figurines.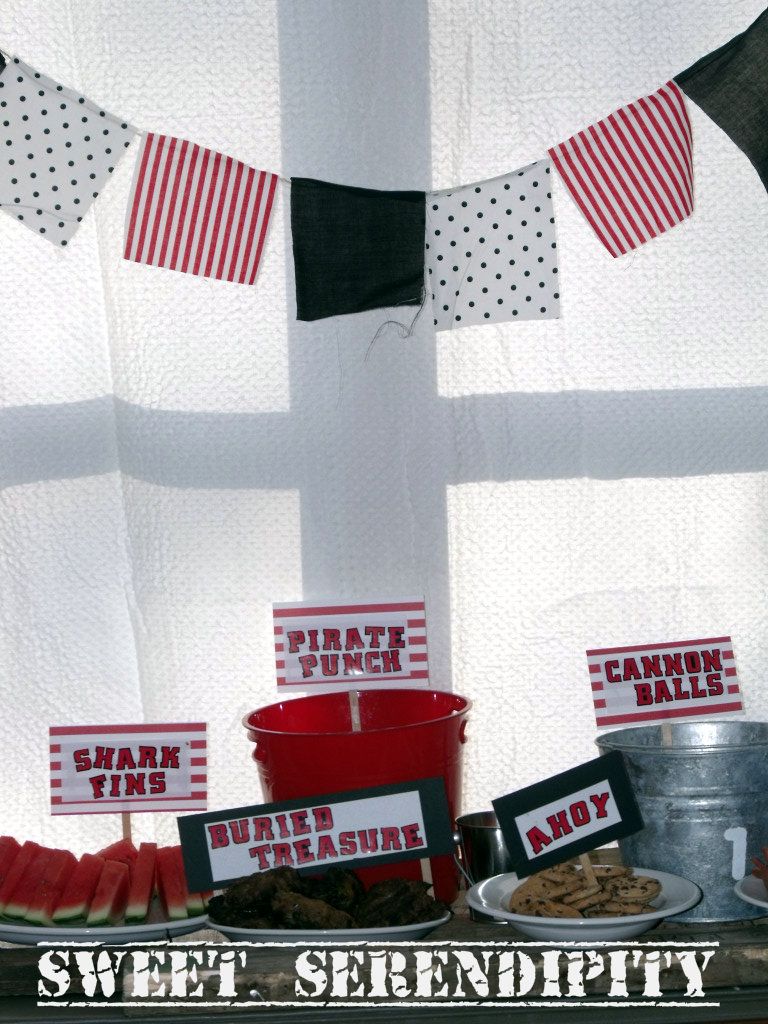 A closer look at the food table.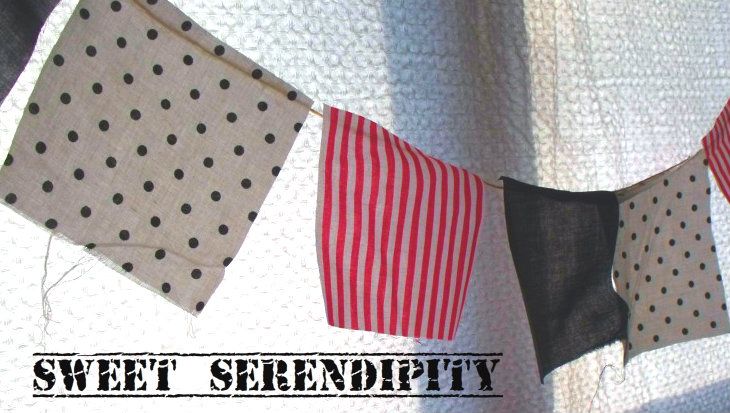 It was so simple to make this pirate banner I bought 2 pattern and 1 solid pieces of fabric cut to 1/8 of a yard. Then I laid them all out one on top of the other and cut them at random intervals. I then cut a piece of rope to the length I wanted and hot glued the edge of the fabric to the rope and there you have it a very easy banner for a party.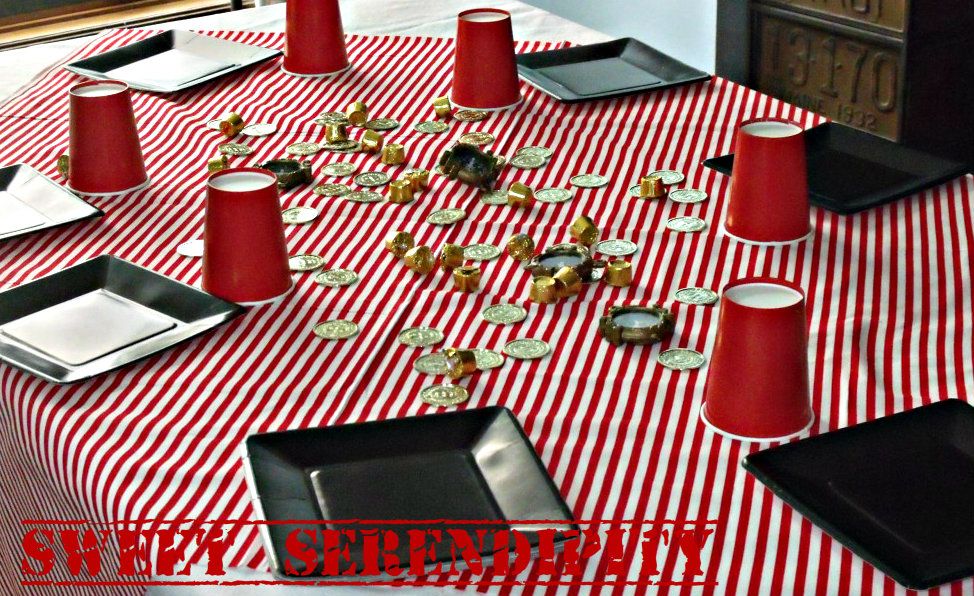 The table was a simple to do as well I chose the stripe fabric from the banner and had the fabric store cut me a piece of fabric 43 inches which make a perfect square. Using the white table clothe from another party and then putting the stripped fabric over it on a angle started our pirate table. I then added gold coins, compasses, and rolos scattered over the table and then set it with black square plates and red cups from the dollar store.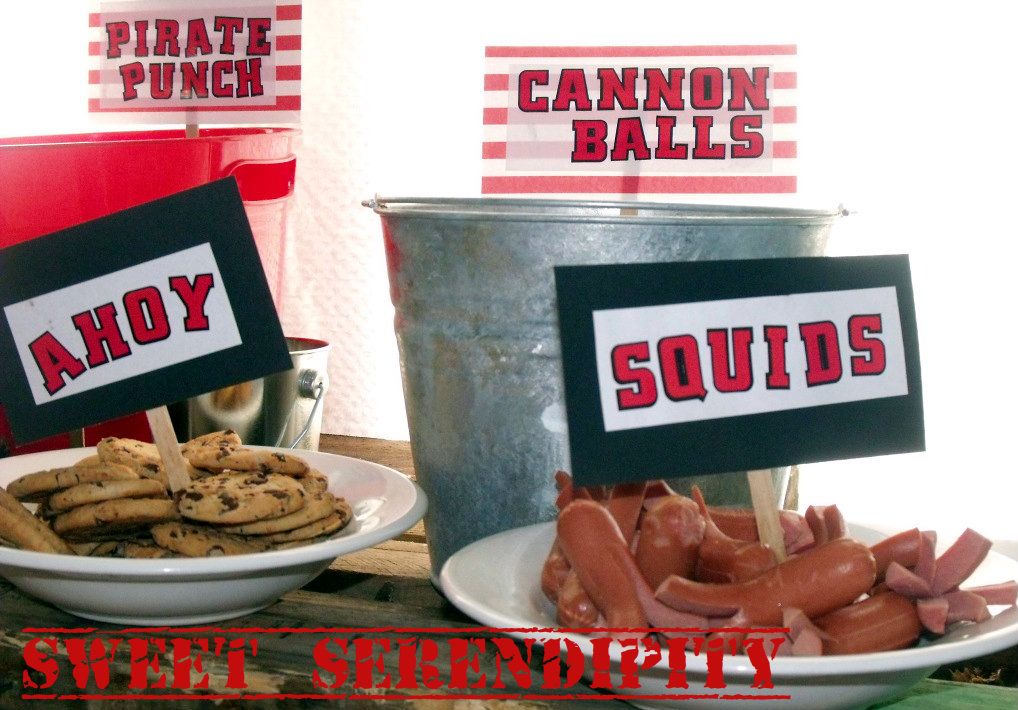 The food was the thing the kids could not quit talking about. I made all the labels for the food using white printer paper, black card stock, red and white striped scrapbook paper and red and black team stickers. This is a very simple thing that made a big impact. To make the labels I spelled all the words using stickers on the white printer paper and then cut them out. Using a glue stick I glued 3 of the words on the black and 3 on the striped paper and then cut them out leaving a 1/2 inch border around. I took my newly matted signs and hot glued them to popsicle sticks. Then I either taped them into or stuck them into the containers I found around the house.
To make buried treasure burgers you make your hamburger mix I add 1-2 eggs and 3 TBS of my onion soup mix. I make huge meatballs and then put a hole in it to the center and add shredded sharp cheddar cheese(this is may families favorite but you can use any kind of cheese). Close up the whole and make you patties as usual. Grill until desired doneness. Yummy!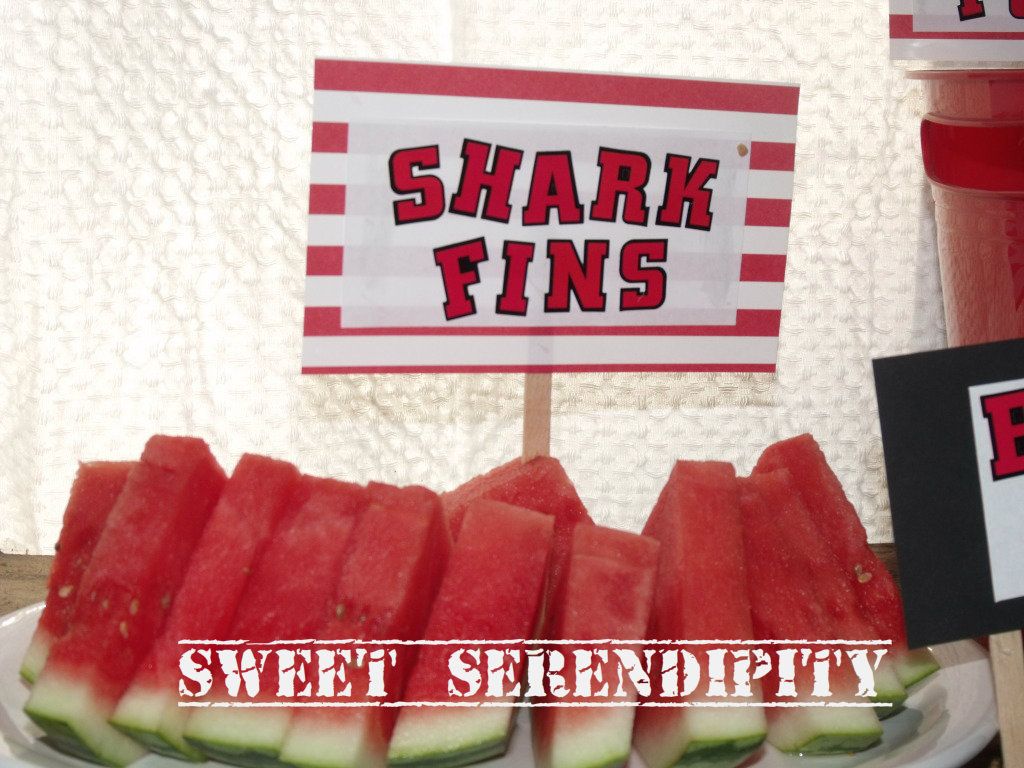 A little tip for keeping watermelon upright like the ones pictured above. Cut a straight line off the back of the rind and tada non tipping over watermelon slices.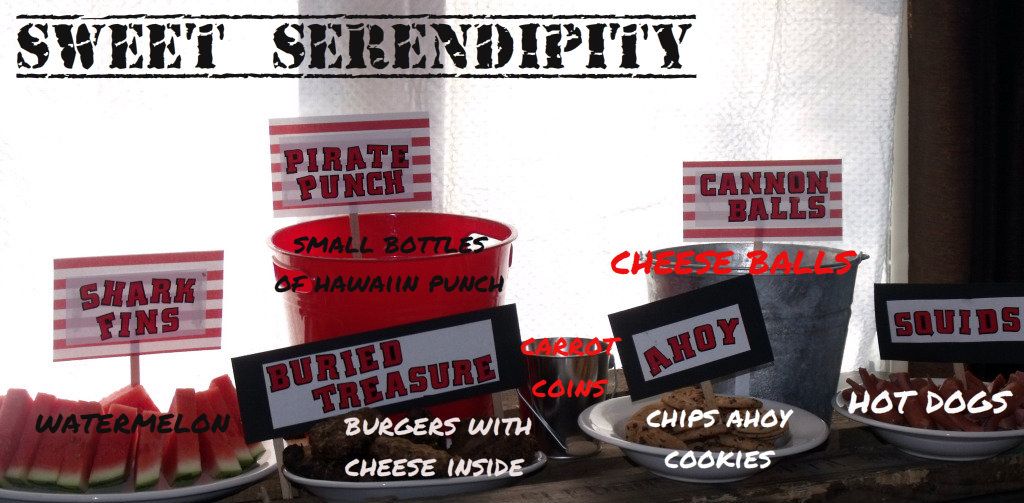 Explanation of food....
Shark Fins - watermelon
Pirate Punch-bottles of hawaiian punch
Buried Treasure- burgers with cheese in the middle
Cannon Balls- cheese balls
Ahoy- chips ahoy cookies
Squids- hot dogs (cut in half and then from the flat side you are going to make 4 slits about half way up the hot dog, making 8 "legs" then as you boil them the "legs" curl up).
You can see a small bucket that says carrot coins they are just whole carrots peeled and then cut into circles.
Minus the food and shopping for supplies I created all the decorations in under a hour. Food was less than 45 minutes(with help). I used a lot of what I had around the house and this party will certainly go into the memory banks of our children for years to come. I wonder what kind of party I will be planning next month for our going to be 10 year old????