A couple years ago I found a screaming deal...on large antiqueish looking clock hands for $2. I scooped them right up and knew exactly what I wanted to do with them. I wanted to hang them up with a quote about time and families but I was unable to find a quote that fit. Time had passed and I had all forgotten about my clock hands stashed away in my closet and then in October 2010 their was a talk given at General Conference(A time twice a year we are able to hear from our church leaders) called
Of Things That Matter Most
by President Dieter F. Uchtdorf. In the talk he said, "In family relationships love is really spelled
T-I-M-E, time." There I had it. My quote the one I had forgotten about. I am always amazed at the small ways that don't really matter our Heavenly Father shows he is aware of us and loves us.
Now with my quote in hand and a whole year later tada....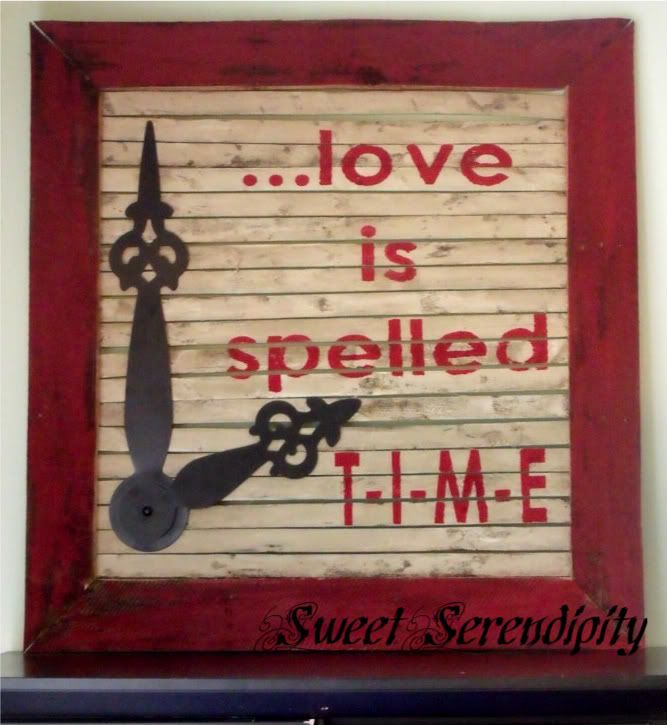 I cut pallet boards for the frame and painted them cardinal red and once dry wiped dark walnut stain over them and then wiped it off right away and sanded the edges a bit. The center is made out of lattice slates that I painted white and again rubbed stain on them and wiped off quickly. I used my brad gun to nail the slates onto the frame and once all assembled I added the hands to the clock(pointing to 2 o'clock the time we were sealed in the temple). I measured the remaining area and using my silhouette made a stencil to fit in the space and stenciled a small portion to the quote onto my lattice boards.
I absolutely LOVE how it turned out except for one little oopsey. I wanted it to go on my mantle but I built the frame to fit the clock hands and so it doesn't fit on my mantle. It is over 3 ft tall so this is a large project to say the least. Now I am trying to figure out exactly where my ever so loved project can go!!!