Pin It


In the midst of moving and getting one house ready to sell I was finding myself well a bit grumpy and drained. My husband kindly pointed out that Julia with a project is a happy Julia and so I took a break from packing, unpacking, touch up painting and cleaning and started working on a project.
When we were first married we wrote a family constitution. We wrote down things that we wanted to see our family doing and typed it up in a consitution style and it adorned our wall for the last almost 10 years. We now have 3 more children and so we asked them what they would like to see our family doing and I wrote a list of the things they said and then I wrote a secondary list that brought them altogether so my project wouldn't look like a jumbled mess of words. Now that I havve explained the why of the project lets get to the how of it.
First you are going to need to collect some pallets. I am lucky enough to have a husband that works in retail so he was able to snag some up for me and he broke them down for me too...Yahoo Hubby! I ended up with a pile of boards like this: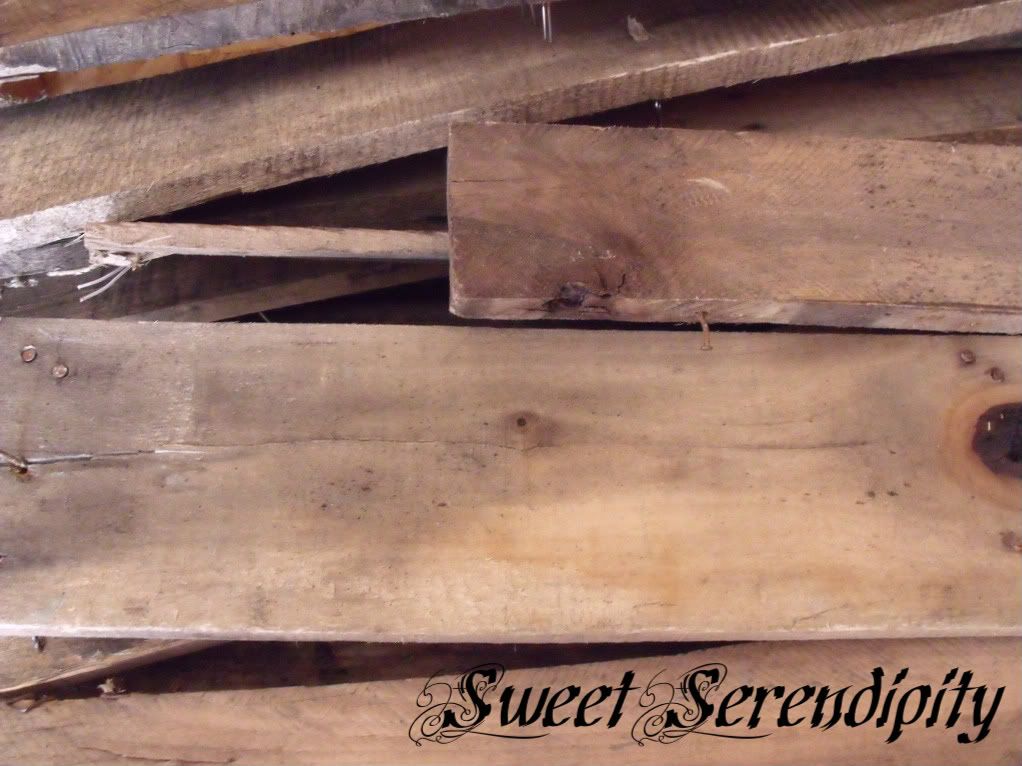 Next removing all the nails and staples. I used a Dremel and a good ole hammer for this part: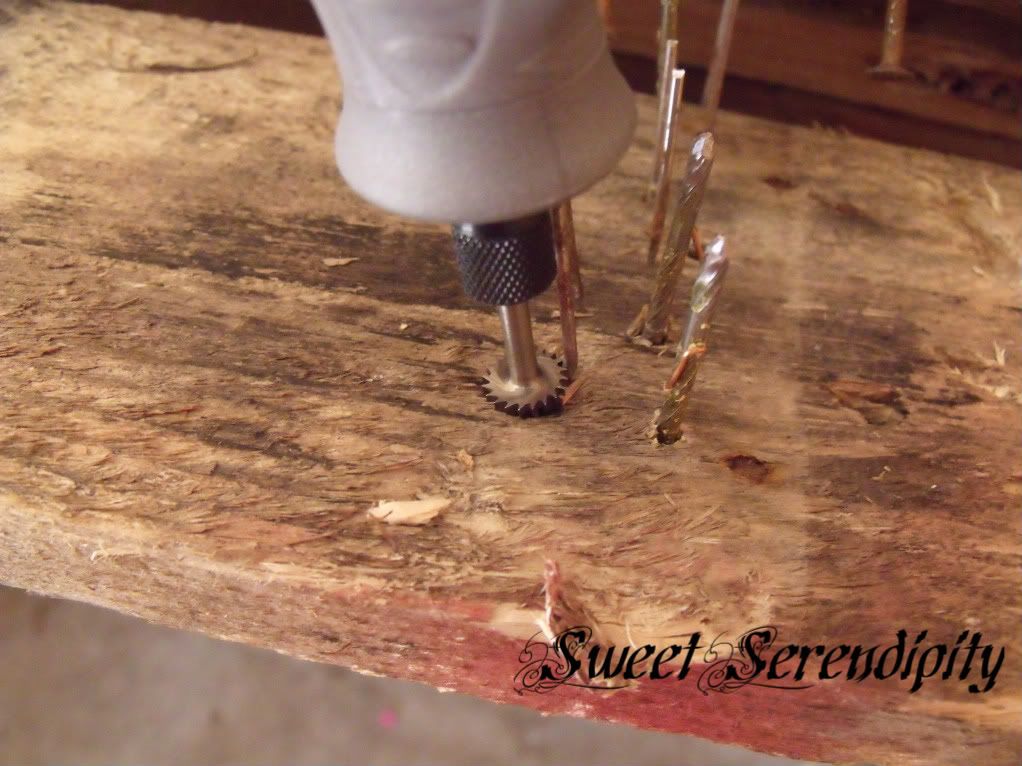 Then to cut the boards to size. I measured the wall I was going to hang it on and cut my longest board 4 inches shorter than that with the other boards being cut 4 and 8 inches shorter that the longest boards. I cut them using a jigsaw and cut a bunch of boards in different lengthes.....
like this: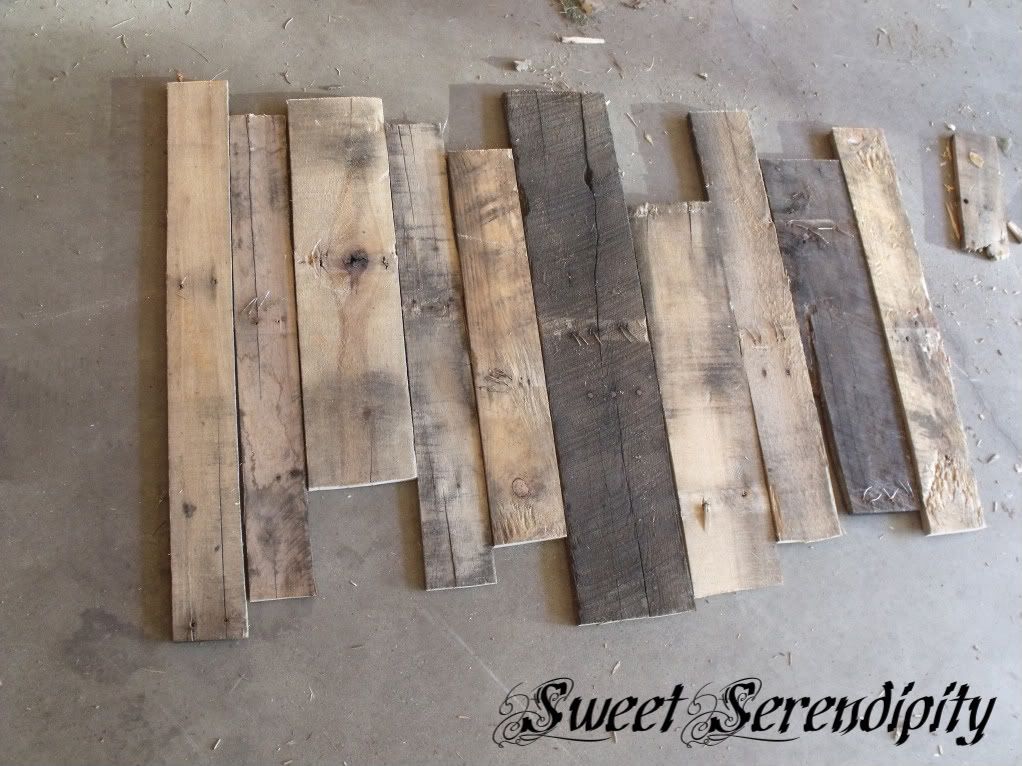 I moved them around until I was happy with the arrangement.
This was the most time consuming part figuring out what words where, what fonts, what sizes for the fonts and then cutting out the words onto vinyl with my silhouette. Once that was done I adhered the letters or the frame around the letters to the boards like so: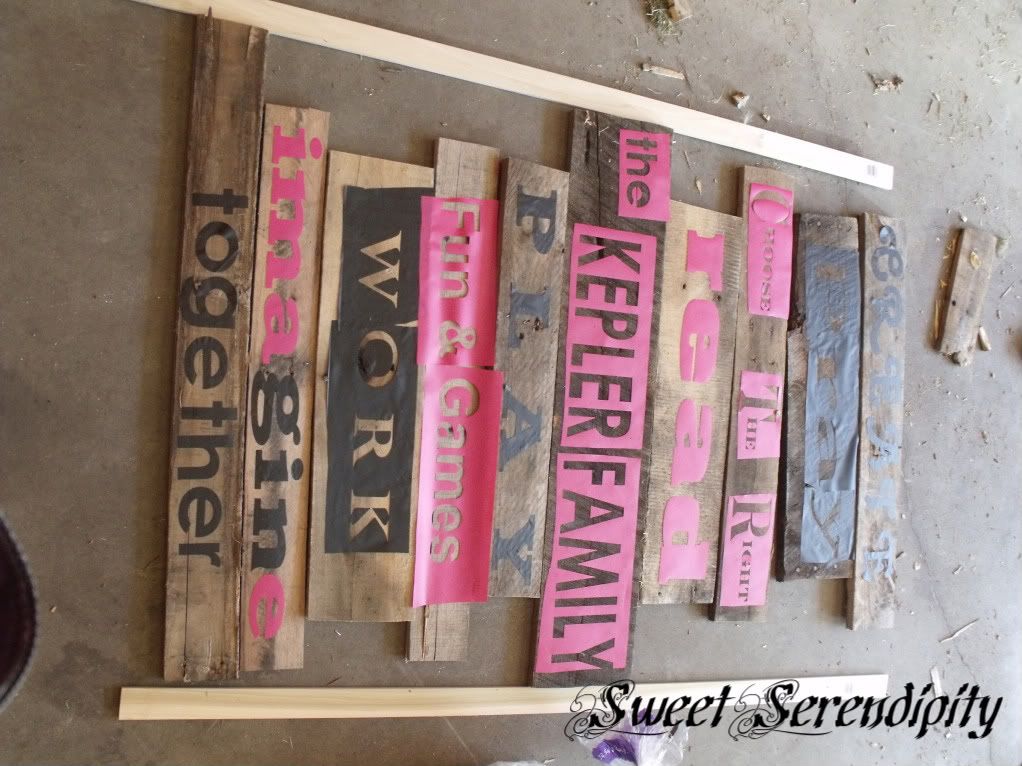 If it had the letters I painted the whole board and rapidly removed the vinyl and if it had the cut outs of the words I just painted that in using a stencil brush.
Once dry I flipped all the boards over and liquid nailed and nailed these 2 strips of wood to hold it all together, added hangers, and foam pads(so not to ding the walls) and it was ready to hang.......
I absolutely LOVE how it turned out and am glad when you enter my home this is what you see:

Idea Shared at:
http://www.thethriftyhome.com/
http://www.alittletipsy.com/
http://www.theidearoom.net/