I had a vision for a message board made out of salvaged red barn wood and after several attempts at obtaining such wood close to home ended in failure I had resigned myself to waiting until October when I would travel to the town I knew had it and make my message board then. Fate however intervened and by chance I went to our old house to do some work and during this time I was there I needed to take my younger son to the school for his kindergarten evalution and drove past this:
I passed it twice and went home and then it occured to me go get it, it is exactly what you need. My husband has learned to trust me now when I say I need to pick something up off the side of the road and so we jumped inthe truck and picked it up.
I painted it vintage white and brought it into the house: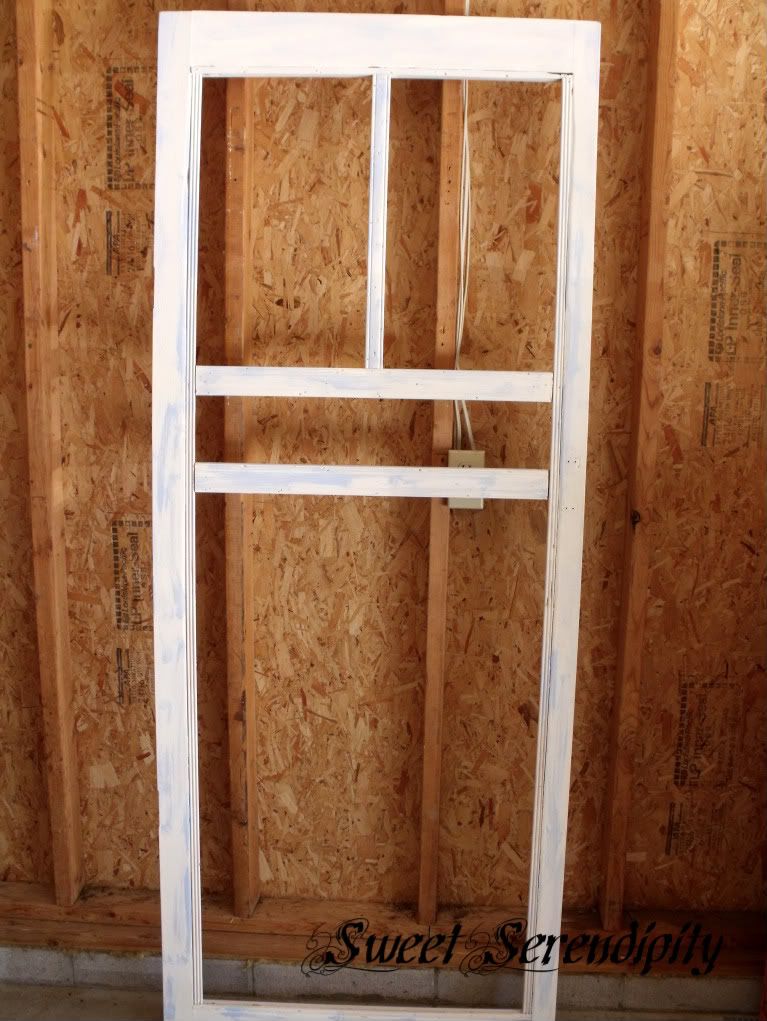 ugghh too yellow and out it went to be painted a distressed blue....
nope this did not work either so back outside it went and
then I painted it antique white brought it in and loved it!
SO much so we added chicken wire and canvas to the door: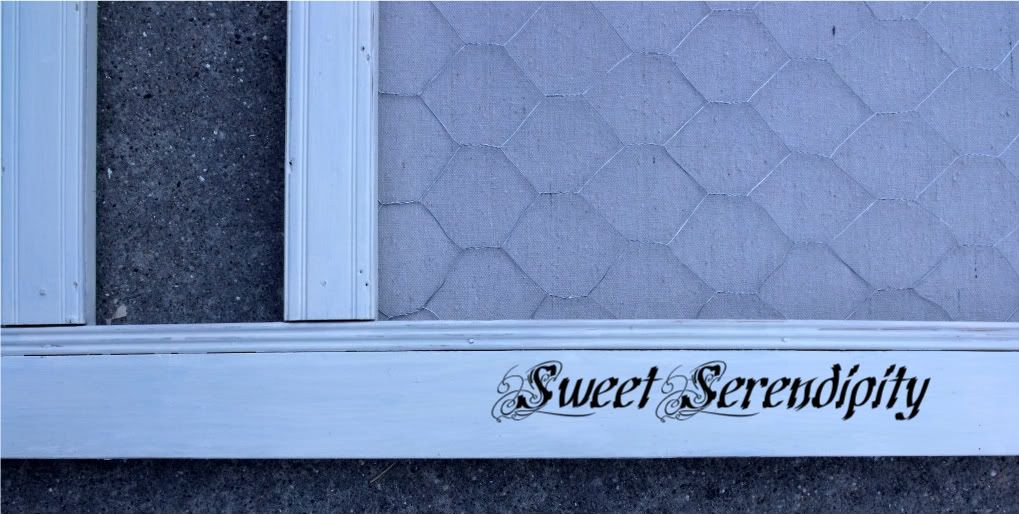 This was easily accomplished with a staple gun. First we laid our the chicken wire(wear gloves) on the back of the door and found the line we were going to staple down pulling it taut as we went along and then went to the side straight across and did the same thing and then to the other 2 sides this went relativly quickly and then we moved on to the canvas doing the same thing and this too went along quickly.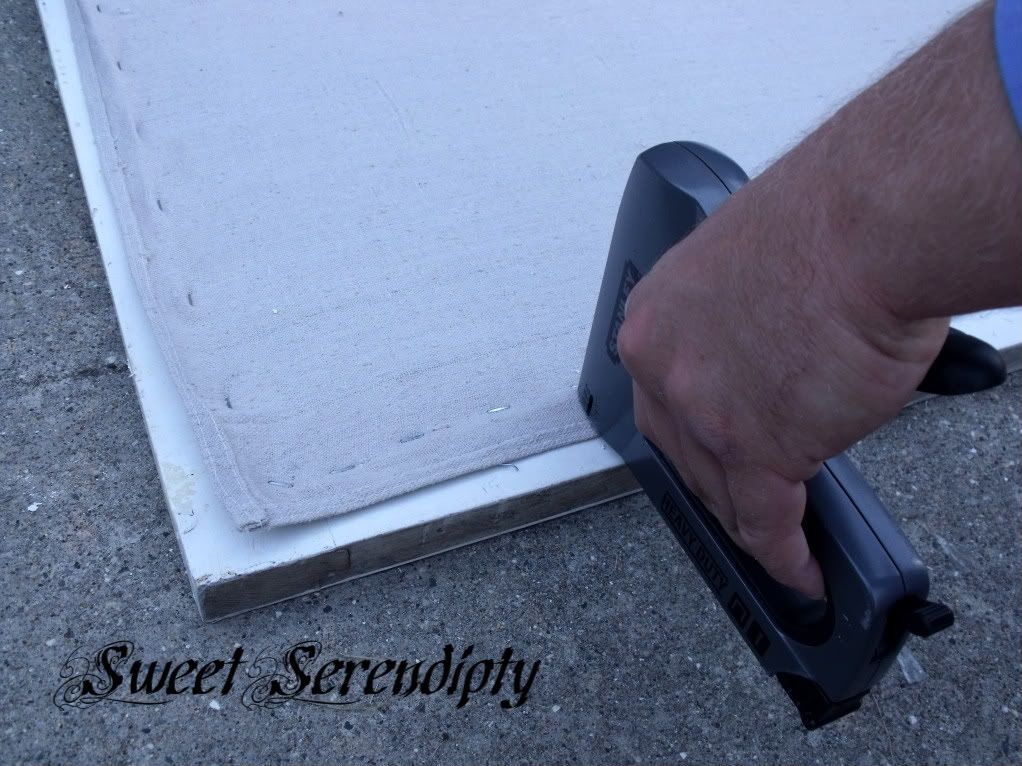 Then I wanted to make 2 magnet boards covered in canvas. I went to our local sheet metal place and they cut it to my exact measurements(I did learn something I would have had him cut one big piece instead of 2 smaller ones in retrospect but the 2 did work)
Then we sprayed the shee tmetal with adhesive and covered it quickly with canvas.
As you can see above we had the canvas rolled up and then we just unrolled it over the sticky surface rubbing it flat as we went along.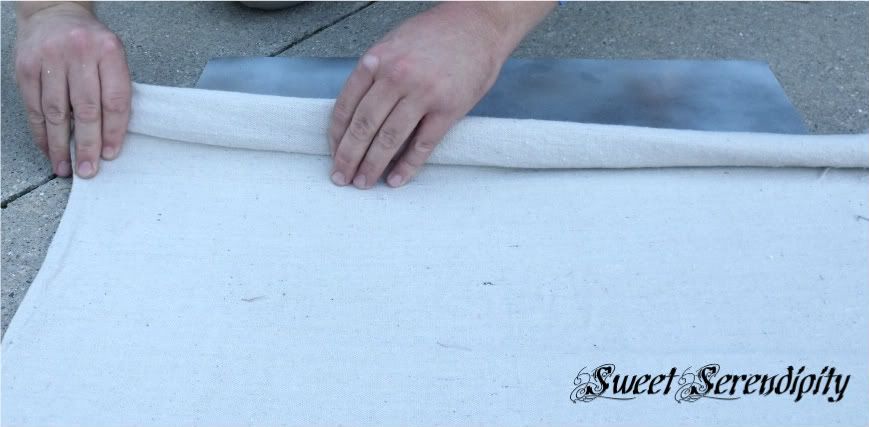 We then used good old duct tape, we had red available from another project and taped the 2 magnet boards in place on the back of the door:
We took in the house and I near died the canvas looked pink and the paint looked yellow. This is when I almost decided to have a bonfire in the back yard and this door/message board was going to be the guest of honor.
After a good nights sleep I decided I would carefully paint it red and try not to paint the canvas(I actually did in one spot okay 2 but I dare you to try to find them)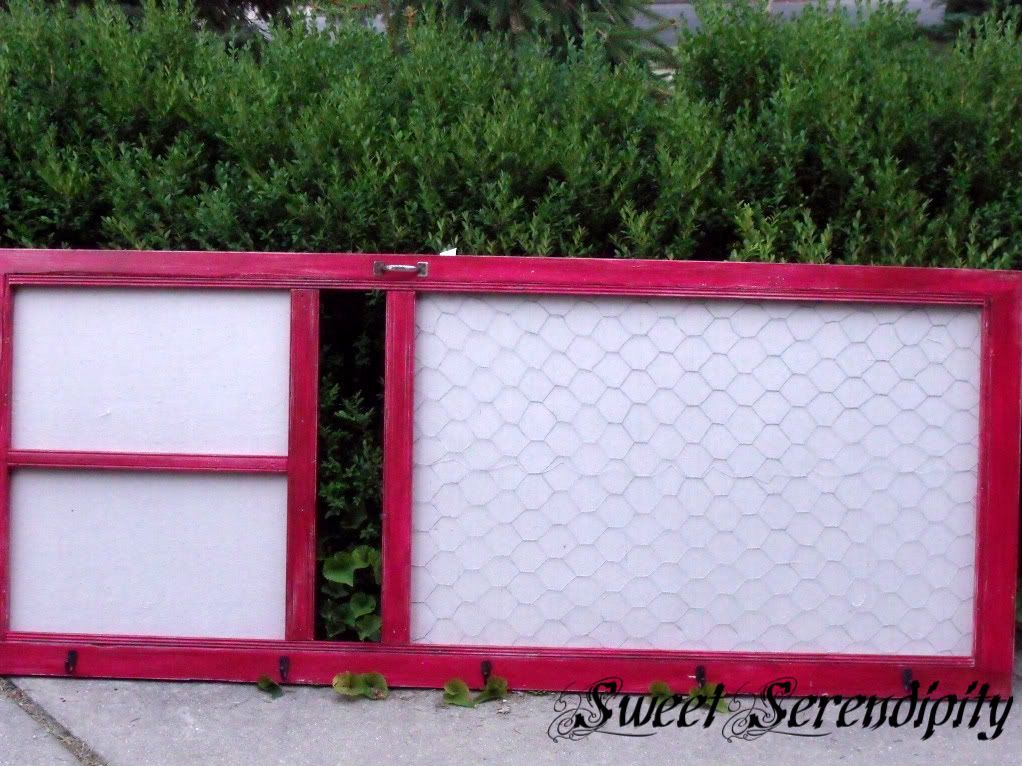 and in it went and I realize from this picture now it might have looked pink but it wasn't until I drug it back in the house that the bonfire was on again so I slept on it again and ran the next day to the store and bought some stain and I am glad I did. I stained the whole thing, distressed it up a bit, added hangers and felt circles to the back, added the hooks and the handle back on and brought it into the house and this time it has found a place to stay. Take a look:
Here is the magnet board side. I found cute magnets that look like push pins to add to the magnet board.
Here is the center section which I left alone. I hung a hook from the wall and hung a canning jar(to hang a canning jar you get some wire I used black and make a loop whatever size you want and then you wrap the wire around the jar lip until you get back to the loop and then wrap around the loop and then go back around the jar the other way do this several times until you run out of wire the jar should be able to hang from the loop on the back after 3 times of going around the jar with the wire) from the hook and added some flowers to it.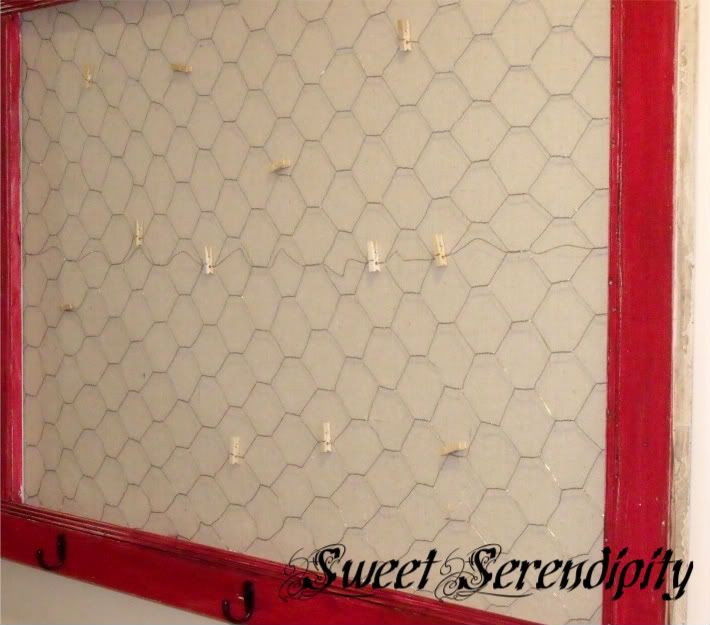 Here is the message board and I found little clothes pins to hang messages from the chicken wire.
Here it is hanging over my bench in the foyer: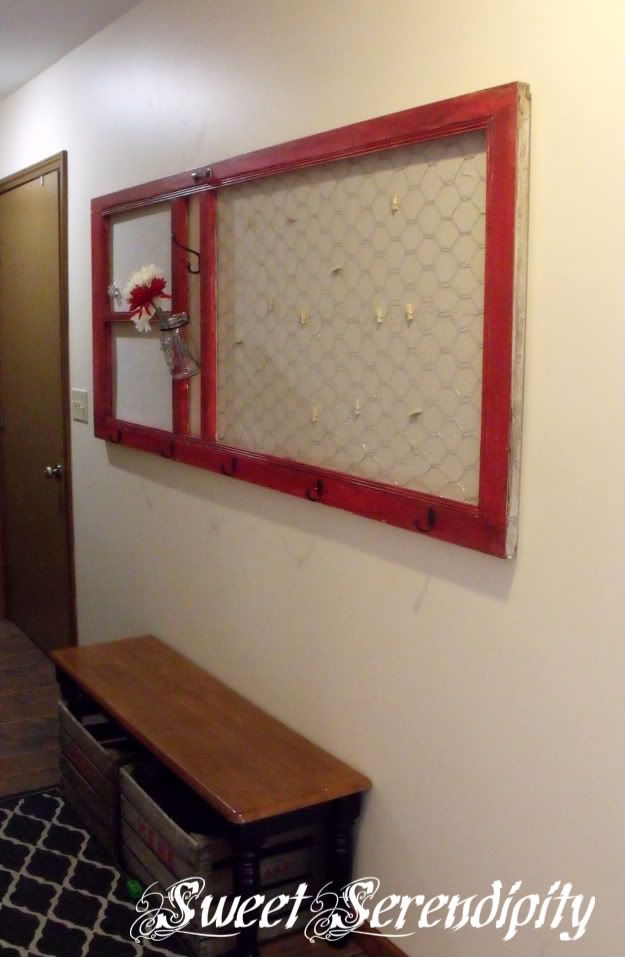 I am so glad I was unable to obtain barn wood because this turned out even better than my first original vision and I LOVE it!!! I am glad I didn't have a bonfire that is for sure!