This soup is so YUMMY...it is like a party in your mouth and everyone is invited!!!!
I received this recipe from a missionary that was serving here and it was his favorite that his mom made(talk about pressure to remake moms favorite for a homesick missionary) and I fell in love with it and made it all the time.
Since that time I have had 3 more children and every other one has been a picky eater and so I quit making it altogether because quite honestly picky eaters can be exhausting and it was easier not to make something I knew was not going to be readily accepted(why I made that descion I have no idea but I have learned from my mistakes). A recent happening at our house has been my picky eaters have turned a huge corner and are willing to try one bite of anything and so I was able to make one of my favorites again and as an added bonus they ALL LOVED it, I hope you do too!!!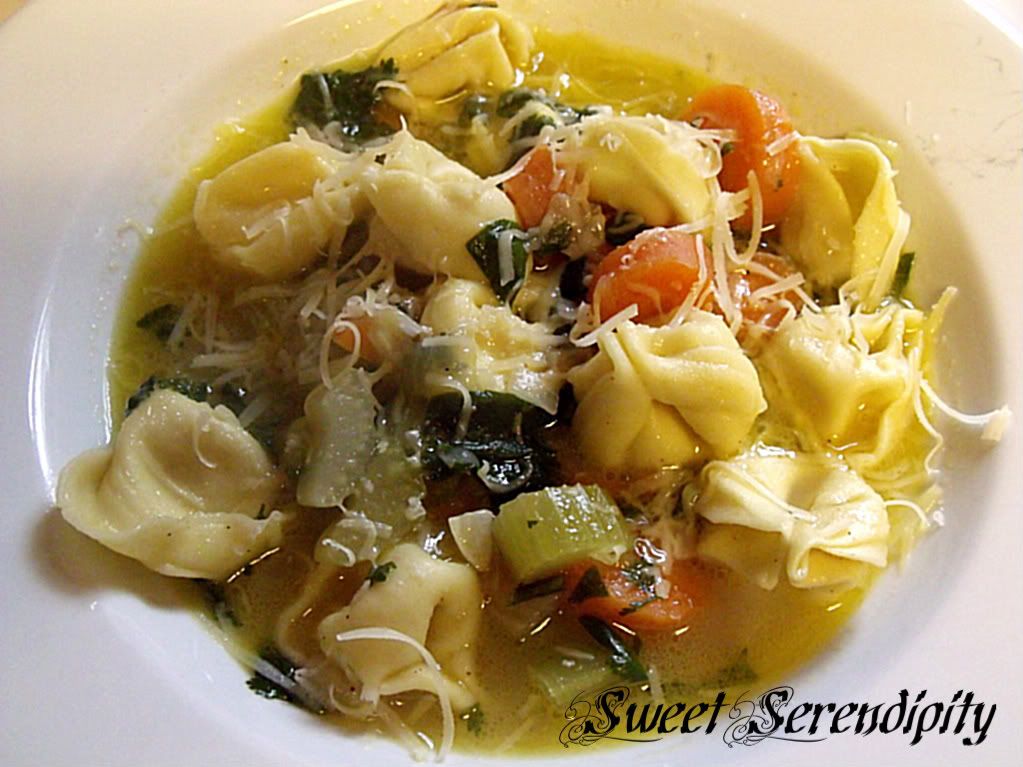 1/2 stick butter
1/4 C olive oil
4 carrots peeled and chopped
4 stalks celery washed and chopped including leaves
1/2 onion diced
2 cloves garlic minced
32 oz organic chicken broth
2 C water
3/4 tsp nutmeg
1/2 bunch cilantro rinsed and chopped
1 9oz package of tortellini
grated paremsan cheese
salt to season
Melt the butter and olive oil in a large stock pot and once the butter is melted add the carrots, celery, onion, and garlic and sautee for 10 minutes on medium heat. Add the broth and water and bring to a boil and then simmer for 15 minutes. Add nutmeg, cilantro, and tortellini and simmer until tortellini is cooked. Season with salt to taste. Serve with grated parmesan cheese...
YUMMY SO YUMMY!!!!