I have not met a child yet who doesn't love Little Quack. These books are fabulous from teaching them you can do anything even when you are afraid and anyone can be a friend even if they are different.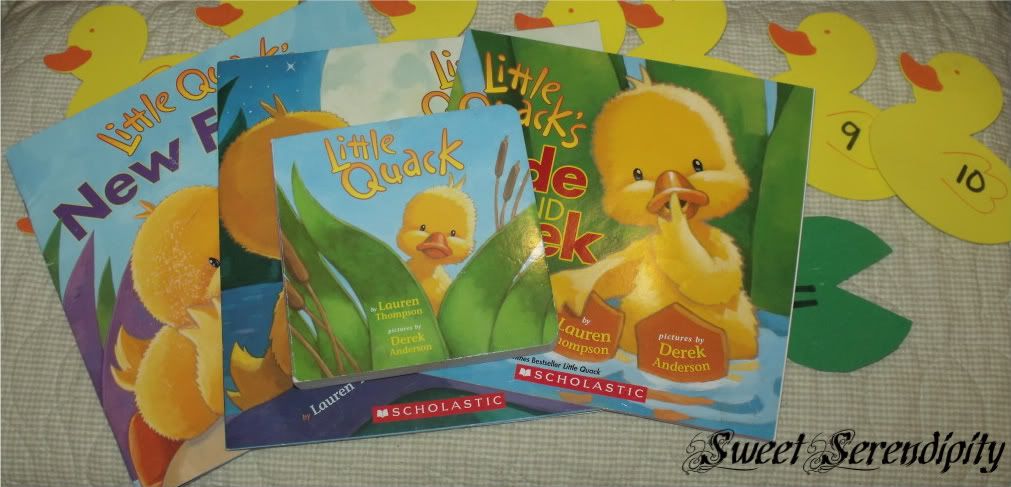 I found these foam duck(for your own ducks you can cut them out of craft foam or if you have silhouette there is a duck shape there if neither of these options sound appealing to you there is this great die cut company called
Punkydoodles
that have diecuts you can order) there on clearance several years ago and programmed them with numbers so they could start to recognize the numbers and place them in order. As my children have gotten older and still love Little Quack I cut lily pads out of green craft foam and programmed them with a +,-, and = sign and left one blank for lesser than and greater than.
We also have imaginative play with this set pictured below(I found this
here
). I also use them for story retelling. I also ask questions like these: Where did Piddle hide? Did Waddle play in the mud or hop? to help them with comprehension.
The company I ordered this from has a clearance section and when they get too much of something even if they are going to continue to carry it they will sell a portion of that item for almost nothing. As an example I bought the set above with a carrying case and all kinds of ideas as well for under $7.00 and for as much use as we have gotten out of it, it has been worth every penny!!
*the companies mentioned above did not pay me for there endorsement they are just fabulous resources I love!!!