As I was reading The Sneetches to my son this week I had an idea an awful horrible terrible idea..well okay it was a fabulous idea to have a Frankfurter Roasting Marshmallow Toasting Dr Suess Party!!!
Off to work I went..okay we, we went. My little guy and I figuring out what we were going to do and then set off doing it together. He was a great help and we are so looking forward to our friends to come over to roast and toast and end the night watching Horton Hears a Who(love that movie)!!!
Here is all of our spoils(I apologize for the pictures the kitchen is the worst to take pictures in and I was not willing to trapse all over the house with everything to get a great picture):
I decided to use the colors from Things 1 and 2 and once that descion was made it all came together.
I bought these candy cane hugs after Christmas on sale and I had 3 ideas in mind to save them for and this is one of them: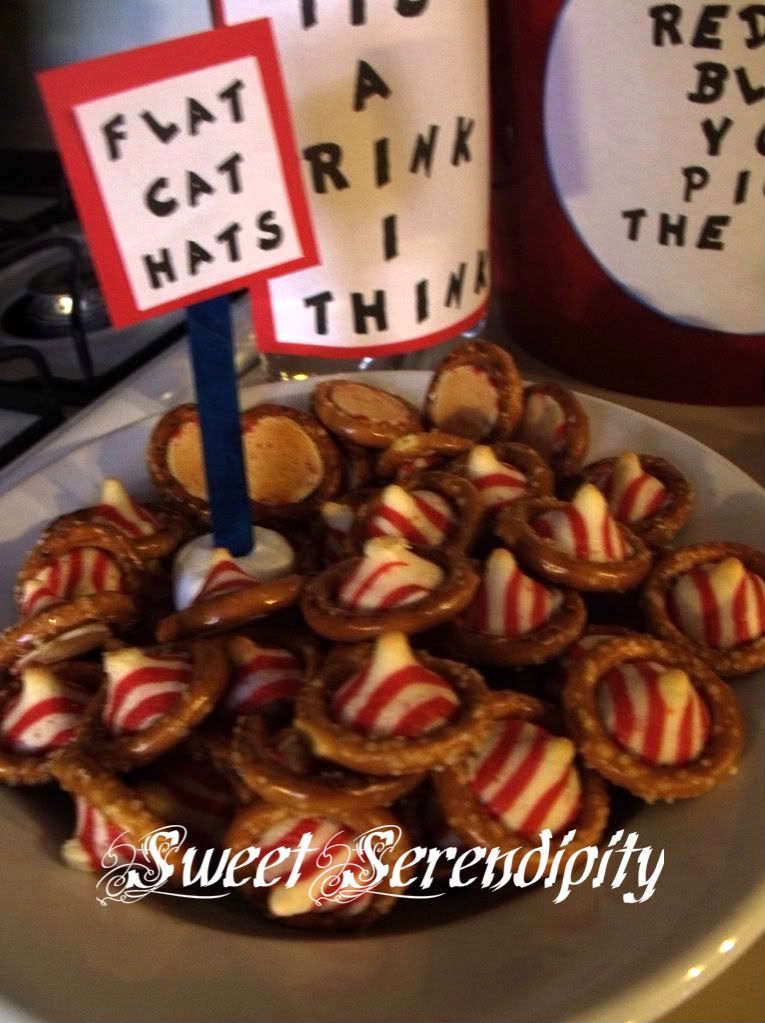 To make you unwrap the hugs place them in the center of the pretzel on a parchment covered cookie sheet and bake for 5ish minutes at 350.
To make our not so flat hats you cover an oreo with white frosting/place a marshmallow on top of that/add a dab of frosting on top ot that marshmallow and add another marshmallow/cut 3 inches from red fruit by the foot and wrap it around where the 2 marshmallows meet and press the overlap together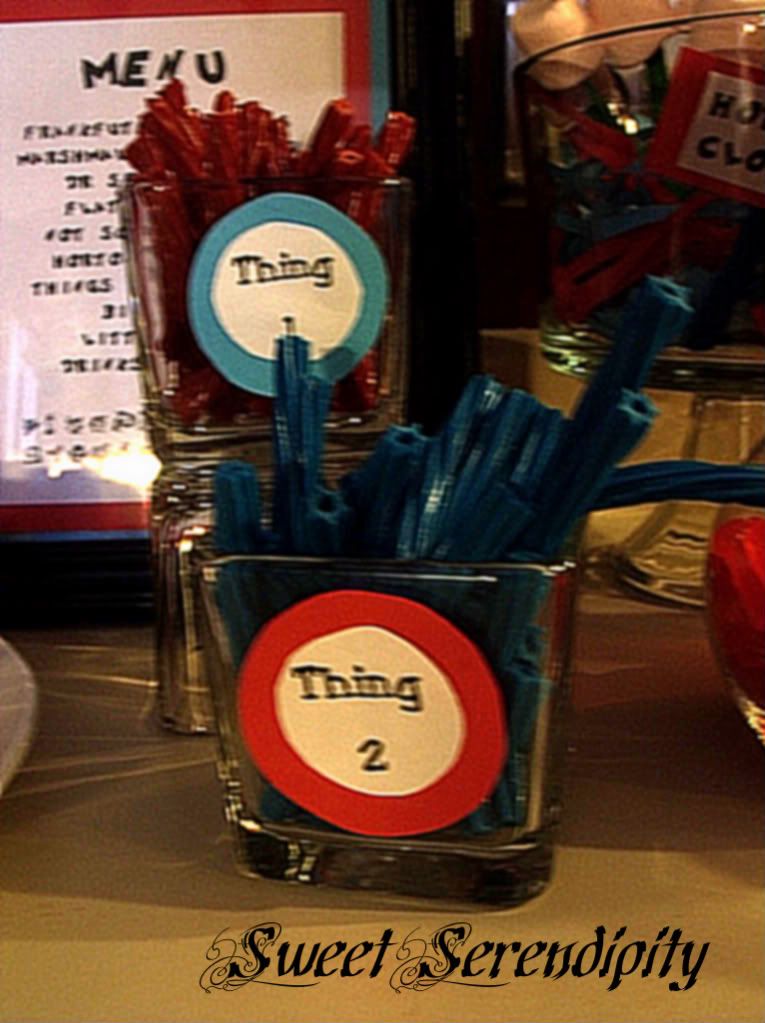 This is and easy one for thing one and thing 2 I just cut blue and red twizzlers in half and placed them into the dishes(or should I say dollar tree candle holders)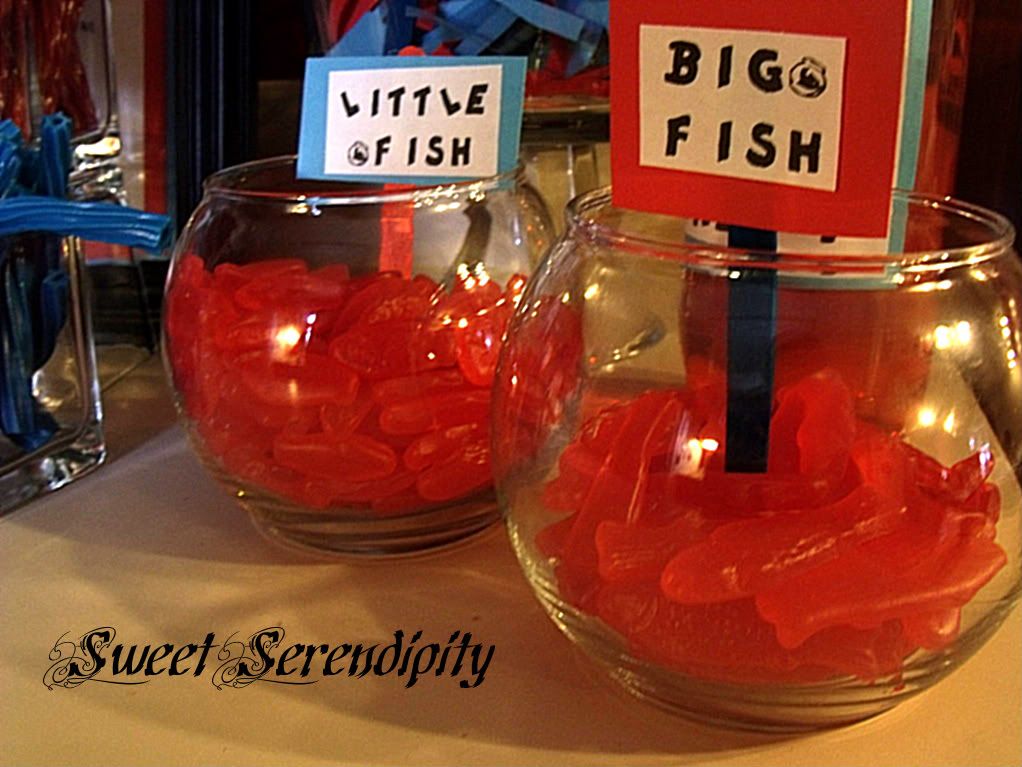 Again a dollar tree find for the containers that look like cute little fish bowls and I added 2 different sizes of swedish fish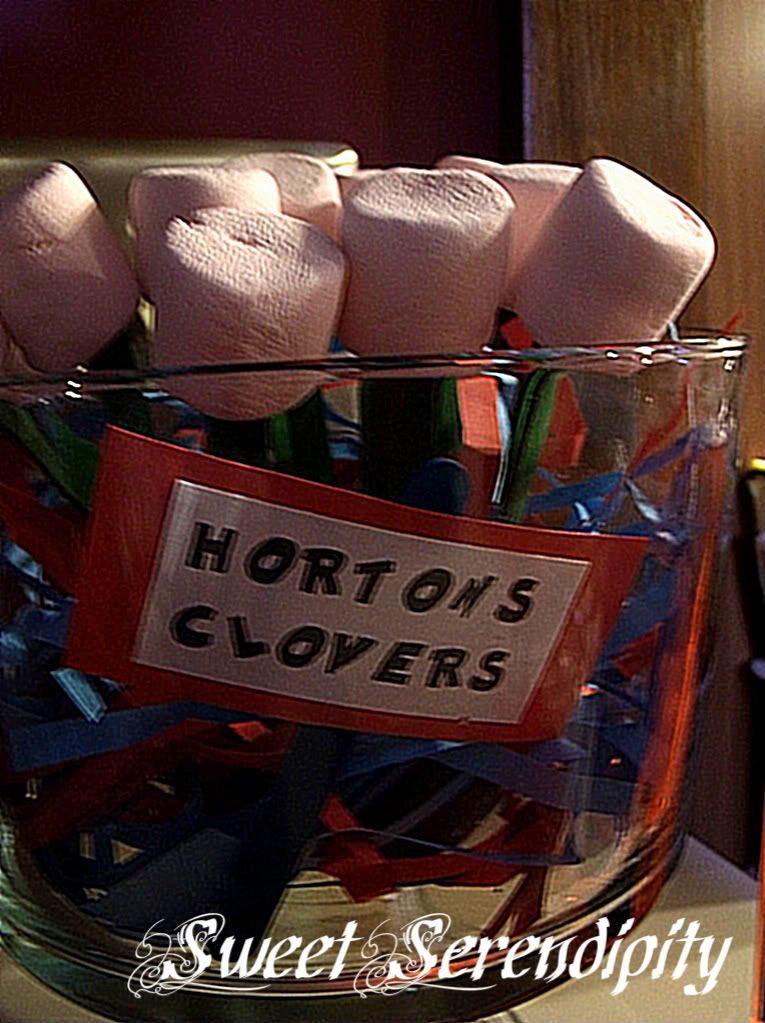 Horton's clovers are simply pink marshmallows pushed onto green popsicle sticks with a dab of white icing for whovilles speck, I thne pushed them into floral foam and to hide the foam I added cut strips of paper crinkled up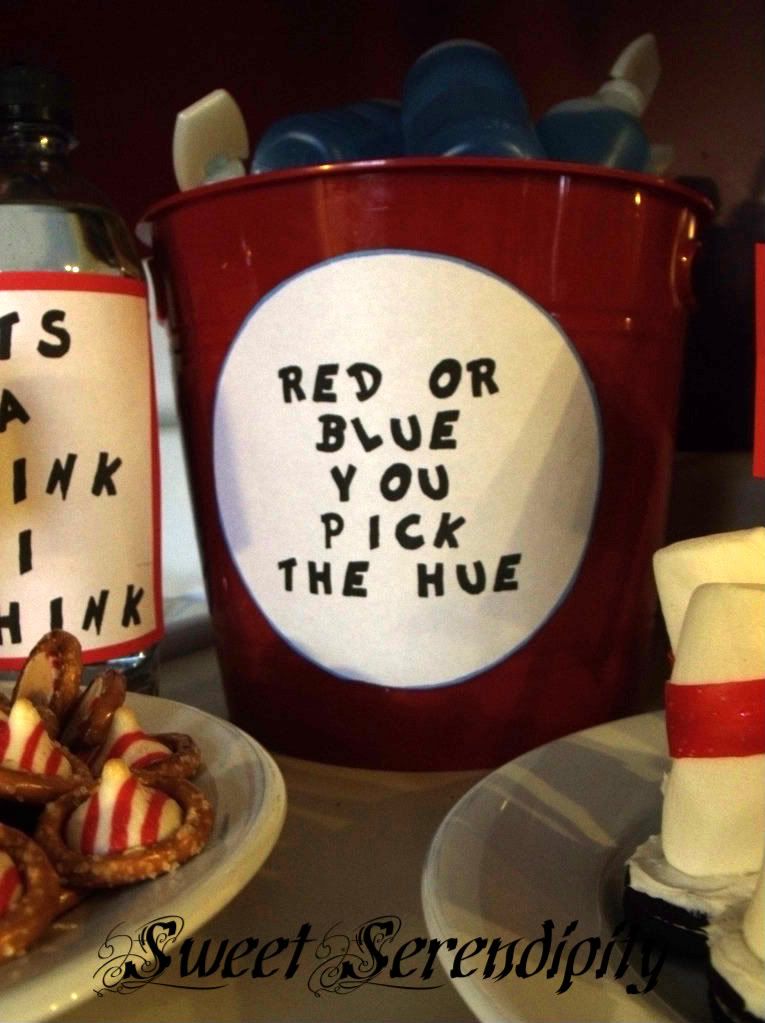 Blue and red Mondo drinks into a ice bucket I stole fromthe toy room!!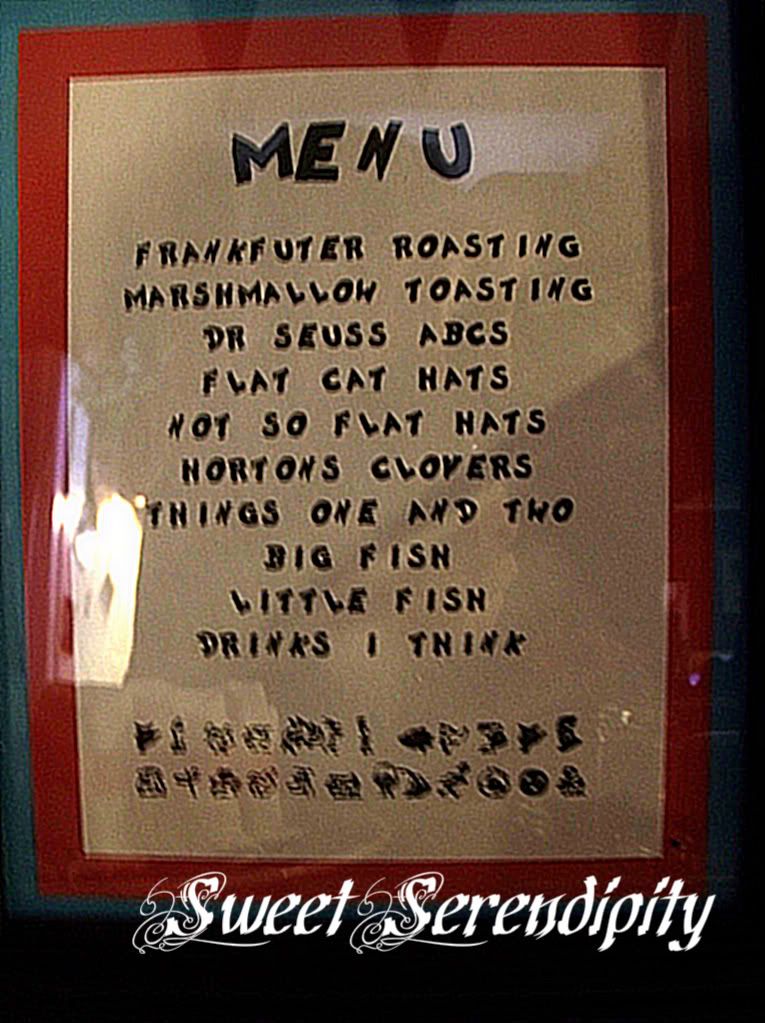 I quickly typed up all the items on our menu on a word document using the Dr Seuss font I found online setting the page to be 6X8. I cut that out, then I cut the red 7X9 and the blue paper 8X10 and attached them all together using double sided tape.
For the Signs: I used the same font for the signs and simple cut them out and mounted them with double sided tape onto colored paper and cut that out to create a frame and then attached them to popsicle sticks with double sided tape.
Not pictured because it was a last minute add on was Dr Seuss's ABC's which were abc pretzels.
You can see in the 1st picture 1 liter bottles of soda which I found in red, white and blue there signs said: its a drink i think on cream soda/a fishes best wishes on the blue drink/super duper sweet treat on red.
Hint: To keep the signs standing up put some frosting on your dish, platter, bowl you are going to use and place a marshmallow on the frosting and let it dry, then when you are ready to add the food push the sign into the marshmallow. When the food is added the marshmallow is hiding.
Oh yeah and we are all wearing stars on our bellies!!!!!